Regular price
Sale price
$40.00
Unit price
per
Sale
Sold out
Nordic Boost serum effectively counteracts the depletion of water in the skin, ensuring that it remains supple and hydrated. It is specifically designed to function in dry environments that tend to strip the skin of its moisture, leading to a dull, irritated, and flaky appearance. As we age, our skin naturally holds less water, which can accelerate the aging process and reduce elasticity. However, the Nordic Boost serum contains a powerful blend of hyaluronic acid, aloe vera, and extracts from moisture-retaining plants that can help increase hydration levels, resulting in firmer, smoother, and revitalized skin.
This serum can also help restore the skin's natural hyaluronic acid levels, which in turn can reduce the appearance of wrinkles. It supplies and retains healthy water levels in the skin, helping it achieve a firm and revitalized look. It also has the added benefit of softening fine lines and reducing rough texture and flakes caused by skin dehydration. Nordic Boost serum is Ecocert Cosmos Natural and comes in a glass bottle with a pump.
HERO INGREDIENTS
Hyaluronic Acid
Iceland Moss
Polypody Fern
Peat Moss
Share
Full Ingredient List

Water, aloe vera leaf juice powder*, glycerin, propanediol, sodium hyaluronate, polypody fern rhizome extract, Iceland moss extract, peat moss extract, xanthan gum, sodium levulinate, sodium anisate, potassium sorbate, citric acid.
*certified organic
How To Use

Apply to clean, dry skin morning and evening. Follow with a moisturizer.
Packaging

Glass bottle with pump in a paper box.
Shipping & Return Policy

---

Location

Purchase Price

Shipping Cost

Standard Shipping:
Canadian Provinces & Contiguous United States
$70 and over*
Free
under $70
$8 flat rate
Wholesale:
Canadian Provinces & Contiguous United States
$500 and over*
Free
under $500
$12 flat rate
Kitchener Headquarters in-store/curbside pick-up
Free

 

*Please note that the purchase of electronic gift cards does not count towards the Free Shipping total.

Shipping

You will receive an email confirming your order with us. As soon as your order has been shipped you will receive an email with your tracking number. If, for some reason, you do not receive this email, you can log into your account and check the status of your order.

If you have chosen local pickup you will be notified via email when your order has been prepared and is ready for pickup.

If your package arrives and there are broken/damaged products, please take a photo of how the parcel arrived and the broken/damaged items. Please take extreme caution when handling any broken glass. Once you have the photos we ask that you send them to hello@cocoonapothecary.com for directions on the next steps or replacement.

For any missing items please contact us when your order arrives at hello@cocoonapothecary.com for further instructions.

We do our best to get orders out within 2-3 business days of receipt. Shipping times vary according to the final destination. Please note that deliveries may be delayed due to COVID-19.

 

| | Canada | United States |
| --- | --- | --- |
| Estimated Shipping Time | 2-6 business days | 5-9 business days |

Most Canadian orders are shipped via UPS or Canada Post. If the delivery agent is unable to deliver your package according to their normal delivery procedures, they will make a reasonable effort to leave your order at the location you have designated. In case of security, weather or access concerns, the agent will leave your package at another nearby location or at the nearest post office. In this latter case, you will receive a delivery notice card with pickup instructions. Please ensure you pick up your order within 15 days of receiving a delivery card notice; otherwise, UPS will return your package to us. If, for some reason, your package is returned to us, we will happily resend your order for a small shipping fee of $8.

Expedited shipping to Canadian destinations and all U.S. orders are shipped via UPS (regular, signature and expedited shipments).

Please note that if a P.O. Box address is provided, the recipient's telephone number must be included on the label. All P.O Boxes will be shipped via Canada Post.

Orders being shipped to the US may be subject to a customs inspection and fees. In the event that customs fees, brokerage fees and/or taxes are applied to your order, these are the responsibility of the purchaser. We do not pay for duties and/or taxes, nor can we control delays due to customs and import laws. A shipping refund will not be given if your package is delayed beyond our control.

We currently do not ship our products outside of North America.

Returns

We cannot modify or cancel an order once it has been processed and shipped. This is because shipping is done by UPS and we do not have the ability to intercept orders after they have been shipped out.

Within 30 days of purchase, you may return all unopened items for a full refund.*
Within 30 days of purchase, you may exchange all gently-used opened items for a refund.
After 30+ days of purchase, all items are final sale and cannot be returned
All accessories are final sale.

Our goal is to help you find products that you and your skin will love! If you have any questions or concerns, please contact our Customer Service Specialist team at hello@cocoonapothecary.com.

To initiate a return, please email us at hello@cocoonapothecary.com prior to mailing any products; otherwise, we will not be able to offer a reimbursement or store credit for any products shipped to us. In your email, please include the following information:

Your order number
The item you would like to return
The reason for the return
Please note that once your items have been received and processed at Cocoon Apothecary, we will inspect the condition of the item(s). If the condition of the item(s) accurately matches the description you provided to our Customer Service team, we will then initiate a refund to your original payment method or provide you with a store credit via email.

Cocoon Apothecary will not refund the cost of shipping fees on your original order. The customer is responsible for all fees related to the return. Cocoon Apothecary will not pay duties, brokerage fees or taxes on return shipments. In addition, all returns must be sent with a tracking number. Before returning an order, please email hello@cocoonapothecary.com for further instructions.

Once your items have been received at Cocoon Apothecary and processed, you will receive an email notification letting you know your refund has been processed.

Please allow up to 7 business days for the return to be processed by your financial institution.

If we perceive an order to be fraudulent, we will place the order on hold. We will then email and/or call the customer using the contact information provided at checkout to confirm the order. If we do not hear back within 2 business days, we will cancel the order.

Any additional questions? Contact hello@cocoonapothecary.com
Bottle Return

Cocoon offers a convenient bottle recycling program. Our customers can return their containers to our headquarters or ask one of our local retailers if they participate in the program. The bottles are sanitized and reused, while the pumps and caps are collected for recycling through one of our trusted partners. The materials are separated, cleaned and then upcycled into new products.
View full details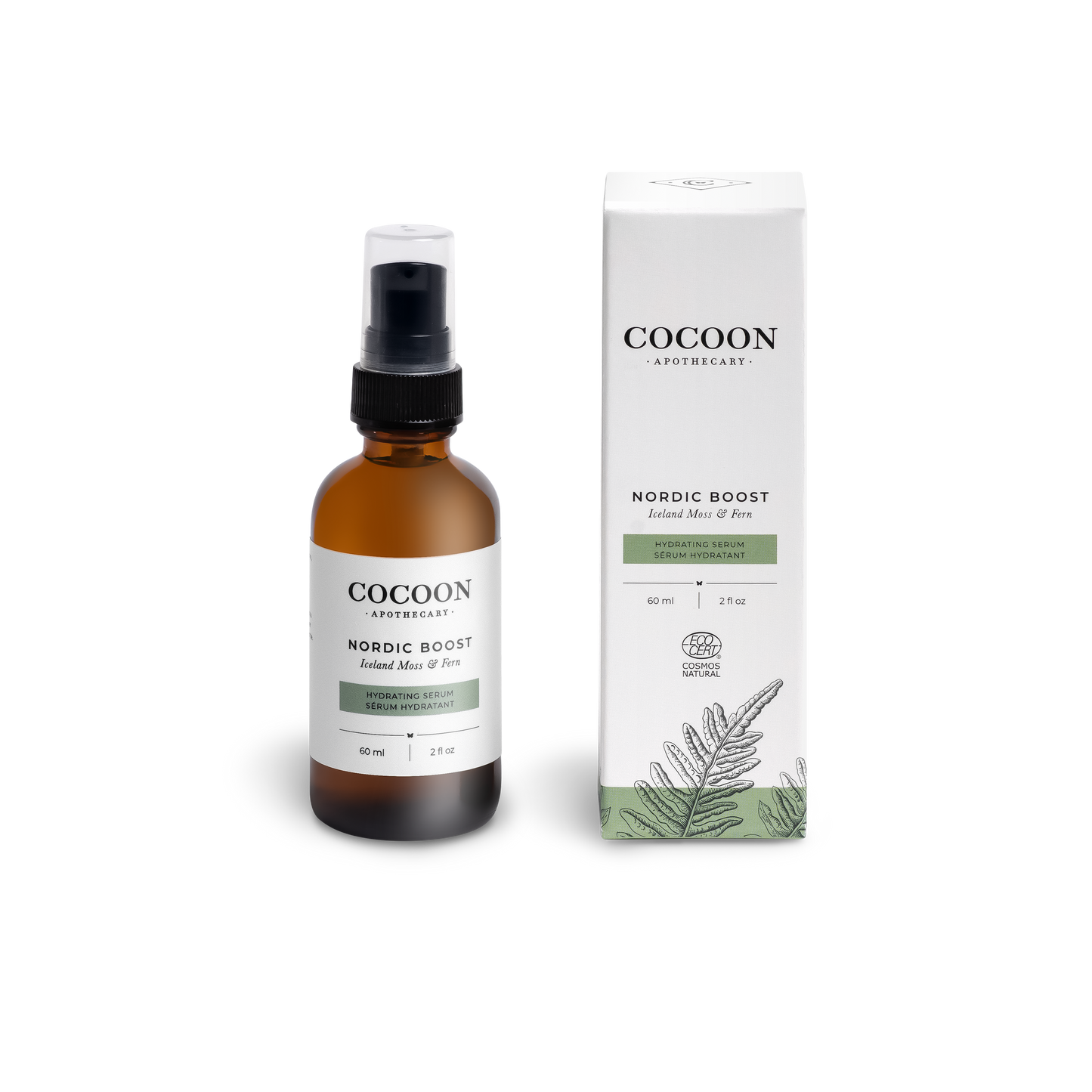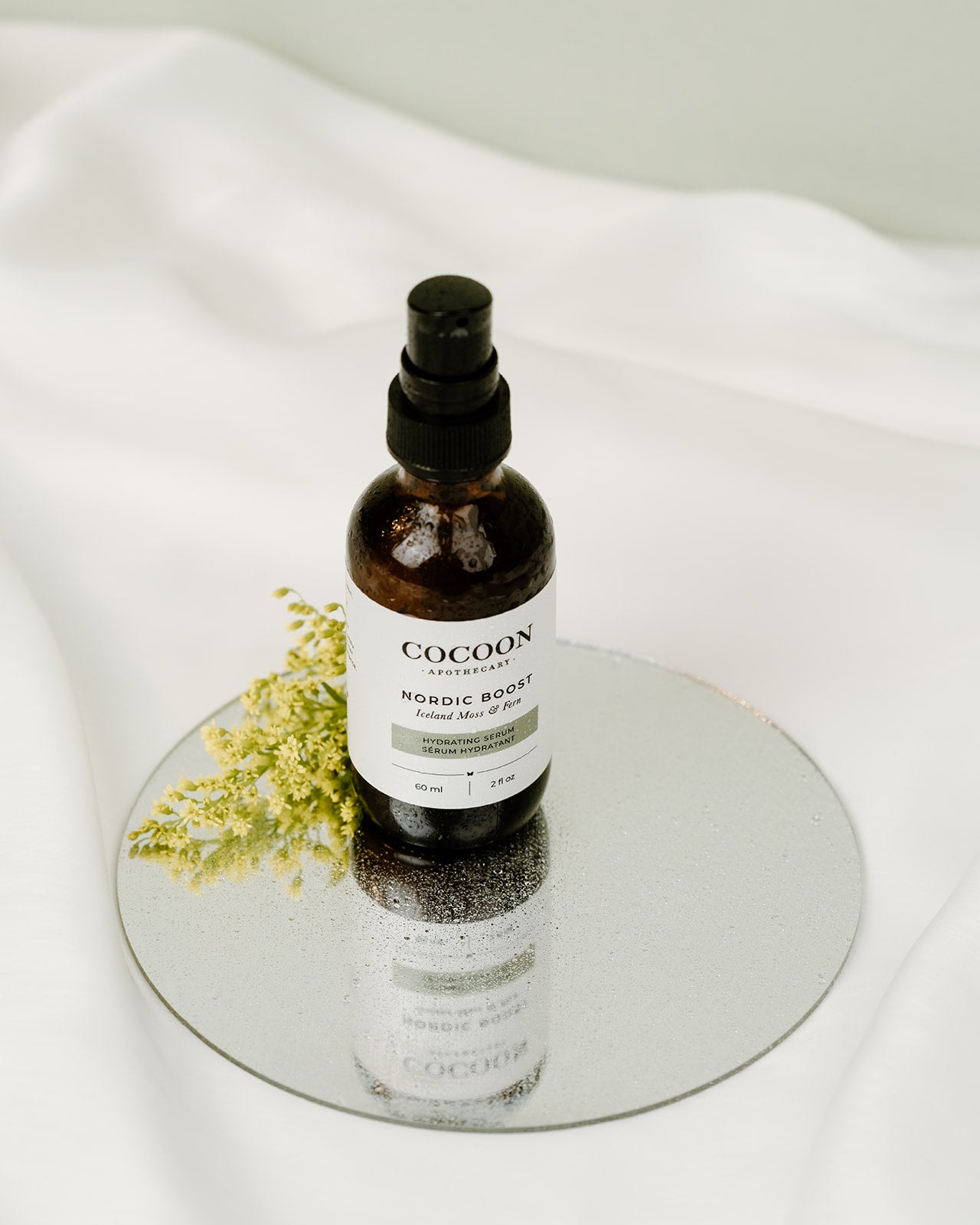 Green Chemistry
We use the safest and most effective antioxidants, preservatives and emulsifiers to ensure our products nourish, soothe and protect your skin.
Coco Glucocide:  A non-ionic surfactant used for foaming and cleansing. It is derived from coconut oil and fruit sugars and is created through a chemical reaction between glucose and coconut oil derived ingredients. Coco-glucoside is used to build viscosity and foaming capacity in soaps. It is very gentle and acts as a cleansing agent without drying out skin. 
Citric Acid: Used as a pH adjuster derived from certain fruits or vegetables through fermentation.
Hyaluronic Acid: A polysaccharide found naturally in skin that has the ability to bind large amounts of water to keep skin hydrated. We use a low-molecular hyaluronic acid created through fermentation that is able to penetrate the skin without causing irritation.
Propanediol: A colourless liquid glycol, naturally derived from corn. It functions as both a solvent and humectant.
Sodium Bicarbonate (Baking Soda): Derived from minerals that are refined into calcium carbonate then turned into baking soda. When combined with citric acid, baking soda creates a fizz that both softens the water and distributes the essential oils throughout.
ANTIOXIDANTS
Resveratrol: A source of polyphenol antioxidants derived from knotweed. 
Rosemary Leaf Extract & Rosemary CO2: Extract from rosemary leaf that is very high in antioxidants. Keeps our products smelling and feeling as fresh as possible. 
Vitamin E (tocopherol): A naturally occurring antioxidant. 
EMULSIFIERS
An emulsifier is the ingredient that binds water to oil in order to create an emulsion, which is just a fancy term for cream or lotion. We chose the following ingredients because they are safe, do not separate, and do not leave a sheen on your skin after applying.
Cetearyl Alcohol: A fatty alcohol extracted from coconuts that is very different than denatured alcohol, which is known to dry out skin. 
Sodium Cetearyl Sulfate: The sodium salt of sulfur extracted from coconut. Sulphur is an element that exists in all of nature. The term 'no sulfates' is way too broad a term and is based on a lot of misinformation. 
Stearic Acid: A fatty acid extracted from plants that acts as a thickening agent and helps to prevent melting in warmer temperatures. Plant fats that are solid at room temperature, such as shea butter, cocoa butter, palm oil or coconut oil, contain high amounts of stearic acid. 
Xanthan Gum: A natural food and cosmetic additive used as a binder, emulsion stabilizer and skin conditioning agent. It is a polysaccharide produced from simple sugars using fermentation. It is dried and processed into a powder, when added to water it acts as a thickener.
PRESERVATIVES
The preservatives we use for our lotions, creams, cleansers and toners are sodium levulinate from non-GMO corn, and sodium anisate from basil. Levulinate contains the same compound (levulinic acid) that bees use to protect their pollen and nectar. Not only are these effective anti-microbials, but they also have active skin care properties; soothes skin and balances the skin's PH to an ideal level.
Glyceryl Caprylate: Derived from coconuts, it works with sodium levulinate and sodium anisate in our preservative system.
Vegetable Glycerin: A colourless, odourless liquid that derives from non-GMO rapeseed oil. It is soluble in water and acts as a humectant (attracts moisture). 
REFLECTOR SPF 30 FACIAL SUN PROTECTION
Zinc Oxide: A naturally occurring powdered mineral used in lotions and creams meant for outdoor use. Zinc Oxide sits on top of the skin scattering, reflecting and absorbing UVA and UVB rays. 

Titanium Dioxide: A naturally occurring mineral that works like tiny mirrors to deflect UV rays off of the skin. It has a high refractive index and ability to reflect and scatter light. Titanium Dioxide is both gentle and cooling on the skin. 
Aluminum Hydroxide: Used as a skin protectant - coats the titanium dioxide and forms a protective layer without penetrating the skin. 
Lauric Acid: Naturally occurring fatty acid found in coconut oil. 
Triethoxycaprylylsilane: Used to create a stable coating for zinc oxide. 
Tapioca Starch: Derived from the root of the cassava plant and is used to create a smooth, non-oily, light cream. 
Olive Leaf Extract and Turmeric are both antioxidant rich botanical extracts that are soothing and rejuvenating to the skin. 
EMULSIFIERS
Glyceryl Stearate SE: Fatty acid derived from vegetable oil, produced from glycerin and stearic acid and used as an emulsifier. 
Polyglyceryl-6 Distearate:  Produced from glycerol and stearic acid and used as an emulsifier. 
PRESERVATIVES
Ascorbic Acid (Vitamin C): Used as a preservative and antioxidant. 
Benzyl Alcohol, Salicylic Acid and Sorbic Acid: All ECOCERT approved preservatives that work together in Reflector SPF 30 to ensure safe broad spectrum protection. 
Potassium Sorbate: The inactive salt of sorbic acid. 
Iceland Moss
Iceland moss is a lichen that grows in cold and damp environments, including the Arctic regions, Europe, and North America. This plant has been used for centuries for medicinal purposes and has recently gained popularity in the beauty industry for its skin care benefits.
One of the key benefits of Iceland moss for the skin is its ability to soothe and hydrate dry and sensitive skin. This is due to its high content of polysaccharides, which help to retain moisture and improve the skin's natural protective barrier. It also contains anti-inflammatory properties that can calm irritated skin and reduce redness.
Iceland moss is also rich in antioxidants, which help to protect the skin against damage from free radicals and environmental stressors. These antioxidants also have anti-aging benefits, as they can help to prevent the breakdown of collagen and elastin, two proteins that are essential for youthful-looking skin.
In addition to its hydrating and antioxidant properties, Iceland moss has been shown to have antibacterial and antifungal properties. This can make it an effective ingredient in treating acne and other skin conditions that are caused by bacteria or fungi.
Iceland moss can be found in a variety of skincare products, including moisturizers, serums, and masks. When used regularly, these products can help to improve the overall appearance and health of the skin, leaving it soft, supple, and glowing.
In conclusion, Iceland moss is a natural ingredient that has a wide range of skin care benefits. Its ability to hydrate, soothe, and protect the skin, as well as its antibacterial and antifungal properties, make it an excellent choice for those looking for effective and natural skin care solutions.
BOTANICAL NAME: Cetraria islandica
EXTRACTION: Solvent Extraction 
DESCRIPTION: Cetraria islandica (Iceland Moss) is a lichen that grows in arctic or alpine areas of the Northern hemisphere. It is usually grey-green to a deep brown in colour, grows to a height of about 7cm and has leathery branches. It has historically been used as a food and a medicine for coughs and colds. Iceland moss is rich in polysaccharides and works with polypody fern to keep moisture in the skin. 
KEY COMPONENTS: Lichenan 
FOUND IN: Nordic Boost Hydrating Serum 
Polypody Fern
Polypody fern is a species of fern that is native to Central and South America. This plant has been used for centuries in traditional medicine to treat various skin conditions, and recent research has shown that it may also have skin care benefits.
One of the main skin care benefits of Polypody fern is its ability to protect the skin from damage caused by exposure to ultraviolet (UV) radiation. UV radiation is a major cause of skin aging and skin cancer, and Polypody fern contains antioxidants and other compounds that can help neutralize the harmful effects of UV radiation on the skin.
In addition to its UV protection benefits, Polypody fern has also been shown to have anti-inflammatory properties. This can be beneficial for people who suffer from skin conditions such as eczema or psoriasis, as well as for those with sensitive skin.
Another benefit of Polypody fern for skin care is its ability to help improve skin hydration. This plant contains polysaccharides, which can help to retain moisture in the skin and improve its overall appearance and texture.
Polypody fern can be incorporated into skin care products such as creams, serums, and masks to provide these benefits. Polypody fern is a promising ingredient for skin care products, with potential benefits for UV protection, anti-inflammatory effects, and skin hydration.
BOTANICAL NAME: Polypodium (poly meaning 'many' and podos meaning 'a foot') vulgare
EXTRACTION: Solvent Extraction
DESCRIPTION: Polypodium vulgare (polypody fern) is a perennial plant that grows up to 30 cm in height. It is typically found growing on rocky surfaces in shady, forested areas often in scattered clumps. Historically used as a medicinal herb, our extract is from the stem that grows underground. The rhizome extract of the plant contains the actives polypodine A and B. It works in combination with Iceland moss to soften and increase the moisture factor in the skin.
KEY COMPONENTS: Polypodine A and B 
FOUND IN: Nordic Boost Hydrating Serum
Peat Moss
Peat moss is a type of partially decomposed sphagnum moss that is found in bogs and wetlands. It has been used for centuries as a soil amendment due to its high absorbency and nutrient-rich properties. However, in recent years, peat moss has also become a popular ingredient in skincare products due to its many benefits for the skin.
One of the primary benefits of peat moss in skincare is its ability to hydrate the skin. Peat moss is rich in humic acid, which is a natural moisturizing agent that can help to increase the skin's moisture content and reduce dryness and flakiness. This can be especially beneficial for those with dry or sensitive skin.
In addition to its moisturizing properties, peat moss also contains a range of other beneficial compounds, including fulvic acid, amino acids, and minerals like calcium, magnesium, and potassium. These compounds can help to nourish the skin, improve its texture and tone, and promote a healthy, youthful appearance.
Peat moss also has natural anti-inflammatory properties, which can help to soothe and calm irritated or inflamed skin. This can be especially helpful for those with conditions like eczema, psoriasis, or acne, which can cause redness, itching, and inflammation.
Overall, peat moss is a highly beneficial ingredient in skincare products due to its hydrating, nourishing, and anti-inflammatory properties. Whether you are looking for a gentle, hydrating moisturizer or a soothing treatment for irritated skin, products containing peat moss can be a great choice for achieving healthy, glowing skin.
Botanical Name: Sphagnum magellanicum
Extraction: Dried
Description: Sphagnum magellanicum or peat moss extract is obtained from the plant matter that settles at the bottom of bogs. Sphagnum magellanicum has no stems, leaves or roots and grows in damp, dark places such as swamps and wetlands mostly in the northern hemisphere. The broken down plant materials submerged under water is called peat. The plant is constantly growing upwards at the tips while the lower parts are dying sometimes dating back a thousand years or more. Peat moss is known in the gardening world for its ability to help soil hold nourishment and moisture. Historically peat moss has been used as a wound dressing and to treat many skin ailments. This extract has the amazing ability to absorb and retain water in the skin. It has also been known to reduce the signs of aging.
Key Components: Fulvic and ulmic acid
Found In: Nordic Boost Hydrating Serum
Customer Reviews
Write a Review
Ask a Question
10/16/2023
Patti W.

Canada
Love this
I love this product. It goes on smoothly and feels great. A little goes a long way.
10/06/2023
Katrina O.

Canada
Light and Fresh
I specifically sought this product as a booster hydration for my other Cocoon products in the colder season. I find this is almost a slippery gel consistency but it absorbs fast and my skin drinks it up! Really great for a hydration serum!
09/15/2023
Danielle B.

Canada
Love the serum so far
I'm approaching my 40s and realized I've never really had a good skin care routine. I wanted to find something simple, clean, natural and Canadian made. Loving the serum so far. My skin feels good and no reaction to the scent or ingredients.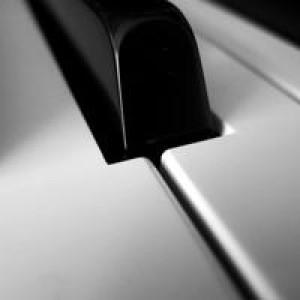 KW
08/22/2023
Kittie W.

Canada
Love it!
It does a great job at hydrating my skin. I've been using it for a few years. I purchased the product via another business but now I've decided to buy directly from the creator. As long as they keep making it, I'm going to keep buying it.
04/27/2023
Carole W.

Canada
Loving it
I am 63 and if I must say so myself my face is loving this product. It really helps with the wrinkles.
04/12/2023
Katie M.

Canada
Consistently my most used skincare item
I've been using this daily for over 3 years. It's my my must have product. Works well alone, under moisturizer, day or night! It's so light but incredibly hydrating.
Nordic Boost
Hello, I like the lightness of the product on my face but don't particularly like the smell of it. I am using it, however.
03/20/2023
Cocoon Apothecary
Hi Stone, we are so sorry you don't enjoy the smell. The light green scent of this product comes from the fern and moss ingredients. Thank you for your review.
03/08/2023
Rebecca C.

Canada
Perfect Hydration!
I'm so happy with the Nordic Boost Hydrating Serum! I've struggled with dry/dehydrated skin for almost 3 years. Living in Manitoba, the winters create a whole new set of challenges when learning how to deal with dry/maturing skin. I've been using this product for almost 2 weeks now, and it has been heaven sent, seeing results immediately. My skin has never looked this smooth or healthy. I'm so happy I've found a product/company I can trust to help my skin issues! - I've paired my skin care with the Orange Blossom Facial Cream, and plan to switch my routine to everything Cocoon Apothecary, it's that good!
03/07/2023
Amy F.

Canada
love this serum!
I am not someone who know anything about or uses many skin products by after trying this serum out on a whim I am hooked. I have noticed a decrease in fine wrinkles, specifically crows feet since I began using this serum. I use in combination with the rosey cheeks facial cream and I love how it makes the facial cream seem more hydrating. When used together after washing my face I am left with lovely, dewy skin.
03/07/2023
Cocoon Apothecary
Amy we are so thrilled you have found skincare you love! Thank you for supporting us.
03/02/2023
Marcia r.

Canada
Nordic Boost is essential
I would not be without Nordic Boost in any season. Essential in the winter, I use it any time I need hydration. I started using it when I was suffering from persistent and severe eczema around my lips. It corrected the problem and I get aggressive with it when I get a flare up (usually related to a food allergy/sensitivity).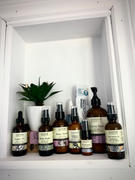 02/23/2023
Lynda G.

Canada
Great for Sensitive Skin
I have used the Nordic Boost Serum for two years. It is the best product for my very sensitive skin.
02/22/2023
Jaimie C.

Canada
My Favourite Serum
Love it!
02/02/2023
Persephone

Canada
Nordic Boost
Really disappointed with this serum as there is no discernable difference in hydration levels in my skin when using it. I live in Manitoba, Canada where we get very harsh dry winter conditions. All the ingredients seemed great, it was gentle on my skin, I just didn't notice any difference what so ever. My skin was balanced and in good condition when I started to use it at the beginning of the winter season. I'll use it as a face spritz until it's gone and then I wont repurchase unfortunately.
02/02/2023
Cocoon Apothecary
We are so sorry to hear you didn't enjoy this product. This product is meant to go under your moisturizer. It's purpose is to draw moisture back into the skin to keep your skin balanced and hydrated. If you didn't find it moisturizing enough we would recommend moving to one of our oil based serums like Rosey Cheeks or Rosehip as these provide more of a lubricated seal on the skin and may feel more comfortable in your dry winters.
02/02/2023
Penny D.

Canada
Amazing and must have in winter
In the winter I need this, it's like night and day when I add it into my routine. Usually I am fine with the rosehip serum and the rosé moisturizer spring and summer, but come late fall and winter I have to add the Nordic serum.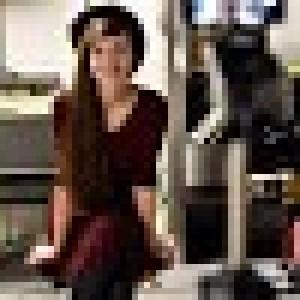 IM
01/28/2023
Ioana M.

Canada
Rejuvenating and dreamy!!!
I adore this serum….it is incredibly nurturing and refreshing for my skin and all my senses. One of my precious rituals…I close my eyes while I apply it on my face and I instantly feel teleported in a pine tree forest or somewhere near a norvegian lake…Will keep buying it.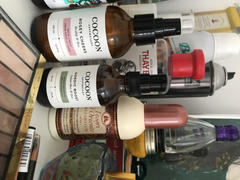 10/13/2022
Megan E.

Canada
Nordic Boost
Excellent! It is lightweight, absorbs instantly. Can easily be applied under your moisturizer.
10/13/2022
Mark G.

Canada
Nordic Boost
I recently purchased a favourite skincare product - Nordic Boost and experienced excellent client care processing the order. Sincerely Johanna Gertzbein
10/20/2022
Cocoon Apothecary
We are so glad you love the product and visiting us in store! We can't wait to see you again :)
09/28/2022
Karen L.

Canada
Love love this product!
Everything about it is exactly what i needed. My skin looks so much better since i have been using this and all the other skin products! I,m hooked!
09/21/2022
Amber

United States
A Must Have!!
This is one of the best serums I have ever used! I swear by this stuff, and I've only used it for 2 weeks!
09/15/2022
Alisa M.

Canada
Highly recommend
Highly recommended