Regular price
Sale price
$25.00
Unit price
per
Sale
Sold out
This certified organic toner is designed to nourish and balance your skin with the help of potent plant actives. Its key ingredient is orange blossom water, which is produced through distillation and infused with flower power to provide you with a host of benefits. This water-based toner has a calming and cooling effect on your skin, making it the perfect addition to your skincare routine.
By using this toner, you'll experience purified and refined pores, as well as a reduction in excess oil and dirt. Its powerful antioxidants, terpenes, and astringents work together to protect your skin from damage while promoting a healthy, balanced complexion. And because it's an Ecocert Cosmos Organic formula in a glass bottle with a mister, you can feel good about using it knowing that it's both effective and eco-friendly.
HERO INGREDIENTS
Neroli Hydrosol
Share
Full Ingredient List

Orange blossom flower water*, sodium levulinate, sodium anisate, glycerin, water.
*certified organic
How To Use

Spray directly on clean skin and allow it to dry before moisturizing.
Packaging

Glass bottle with mister in a paper box.
Shipping & Return Policy

---

Location

Purchase Price

Shipping Cost

Standard Shipping:
Canadian Provinces & Contiguous United States
$70 and over*
Free
under $70
$8 flat rate
Wholesale:
Canadian Provinces & Contiguous United States
$500 and over*
Free
under $500
$12 flat rate
Kitchener Headquarters in-store/curbside pick-up
Free

 

*Please note that the purchase of electronic gift cards does not count towards the Free Shipping total.

Shipping

You will receive an email confirming your order with us. As soon as your order has been shipped you will receive an email with your tracking number. If, for some reason, you do not receive this email, you can log into your account and check the status of your order.

If you have chosen local pickup you will be notified via email when your order has been prepared and is ready for pickup.

If your package arrives and there are broken/damaged products, please take a photo of how the parcel arrived and the broken/damaged items. Please take extreme caution when handling any broken glass. Once you have the photos we ask that you send them to hello@cocoonapothecary.com for directions on the next steps or replacement.

For any missing items please contact us when your order arrives at hello@cocoonapothecary.com for further instructions.

We do our best to get orders out within 2-3 business days of receipt. Shipping times vary according to the final destination. Please note that deliveries may be delayed due to COVID-19.

 

| | Canada | United States |
| --- | --- | --- |
| Estimated Shipping Time | 2-6 business days | 5-9 business days |

Most Canadian orders are shipped via UPS or Canada Post. If the delivery agent is unable to deliver your package according to their normal delivery procedures, they will make a reasonable effort to leave your order at the location you have designated. In case of security, weather or access concerns, the agent will leave your package at another nearby location or at the nearest post office. In this latter case, you will receive a delivery notice card with pickup instructions. Please ensure you pick up your order within 15 days of receiving a delivery card notice; otherwise, UPS will return your package to us. If, for some reason, your package is returned to us, we will happily resend your order for a small shipping fee of $8.

Expedited shipping to Canadian destinations and all U.S. orders are shipped via UPS (regular, signature and expedited shipments).

Please note that if a P.O. Box address is provided, the recipient's telephone number must be included on the label. All P.O Boxes will be shipped via Canada Post.

Orders being shipped to the US may be subject to a customs inspection and fees. In the event that customs fees, brokerage fees and/or taxes are applied to your order, these are the responsibility of the purchaser. We do not pay for duties and/or taxes, nor can we control delays due to customs and import laws. A shipping refund will not be given if your package is delayed beyond our control.

We currently do not ship our products outside of North America.

Returns

We cannot modify or cancel an order once it has been processed and shipped. This is because shipping is done by UPS and we do not have the ability to intercept orders after they have been shipped out.

Within 30 days of purchase, you may return all unopened items for a full refund.*
Within 30 days of purchase, you may exchange all gently-used opened items for a refund.
After 30+ days of purchase, all items are final sale and cannot be returned
All accessories are final sale.

Our goal is to help you find products that you and your skin will love! If you have any questions or concerns, please contact our Customer Service Specialist team at hello@cocoonapothecary.com.

To initiate a return, please email us at hello@cocoonapothecary.com prior to mailing any products; otherwise, we will not be able to offer a reimbursement or store credit for any products shipped to us. In your email, please include the following information:

Your order number
The item you would like to return
The reason for the return
Please note that once your items have been received and processed at Cocoon Apothecary, we will inspect the condition of the item(s). If the condition of the item(s) accurately matches the description you provided to our Customer Service team, we will then initiate a refund to your original payment method or provide you with a store credit via email.

Cocoon Apothecary will not refund the cost of shipping fees on your original order. The customer is responsible for all fees related to the return. Cocoon Apothecary will not pay duties, brokerage fees or taxes on return shipments. In addition, all returns must be sent with a tracking number. Before returning an order, please email hello@cocoonapothecary.com for further instructions.

Once your items have been received at Cocoon Apothecary and processed, you will receive an email notification letting you know your refund has been processed.

Please allow up to 7 business days for the return to be processed by your financial institution.

If we perceive an order to be fraudulent, we will place the order on hold. We will then email and/or call the customer using the contact information provided at checkout to confirm the order. If we do not hear back within 2 business days, we will cancel the order.

Any additional questions? Contact hello@cocoonapothecary.com
Bottle Return

Cocoon offers a convenient bottle recycling program. Our customers can return their containers to our headquarters or ask one of our local retailers if they participate in the program. The bottles are sanitized and reused, while the pumps and caps are collected for recycling through one of our trusted partners. The materials are separated, cleaned and then upcycled into new products.
View full details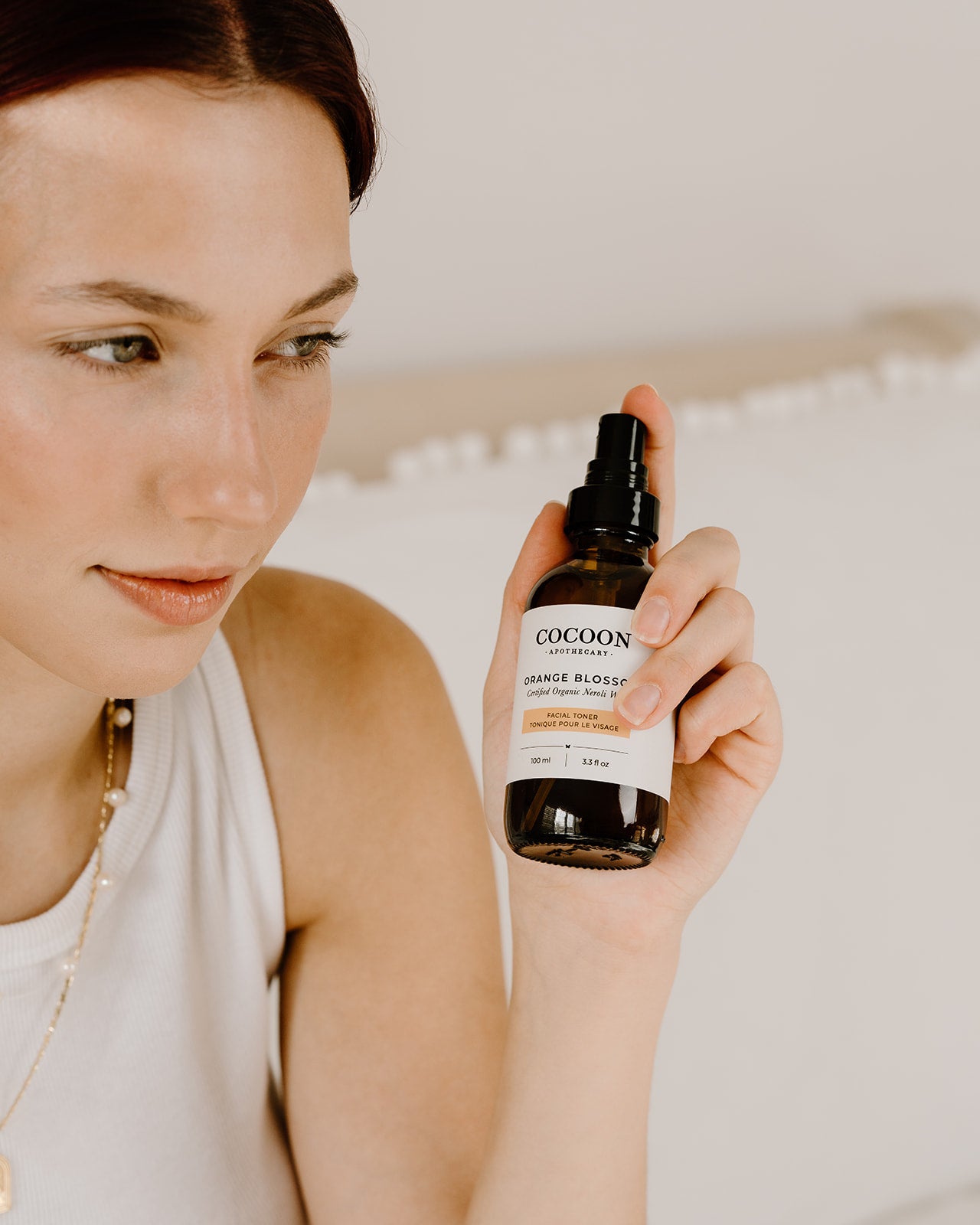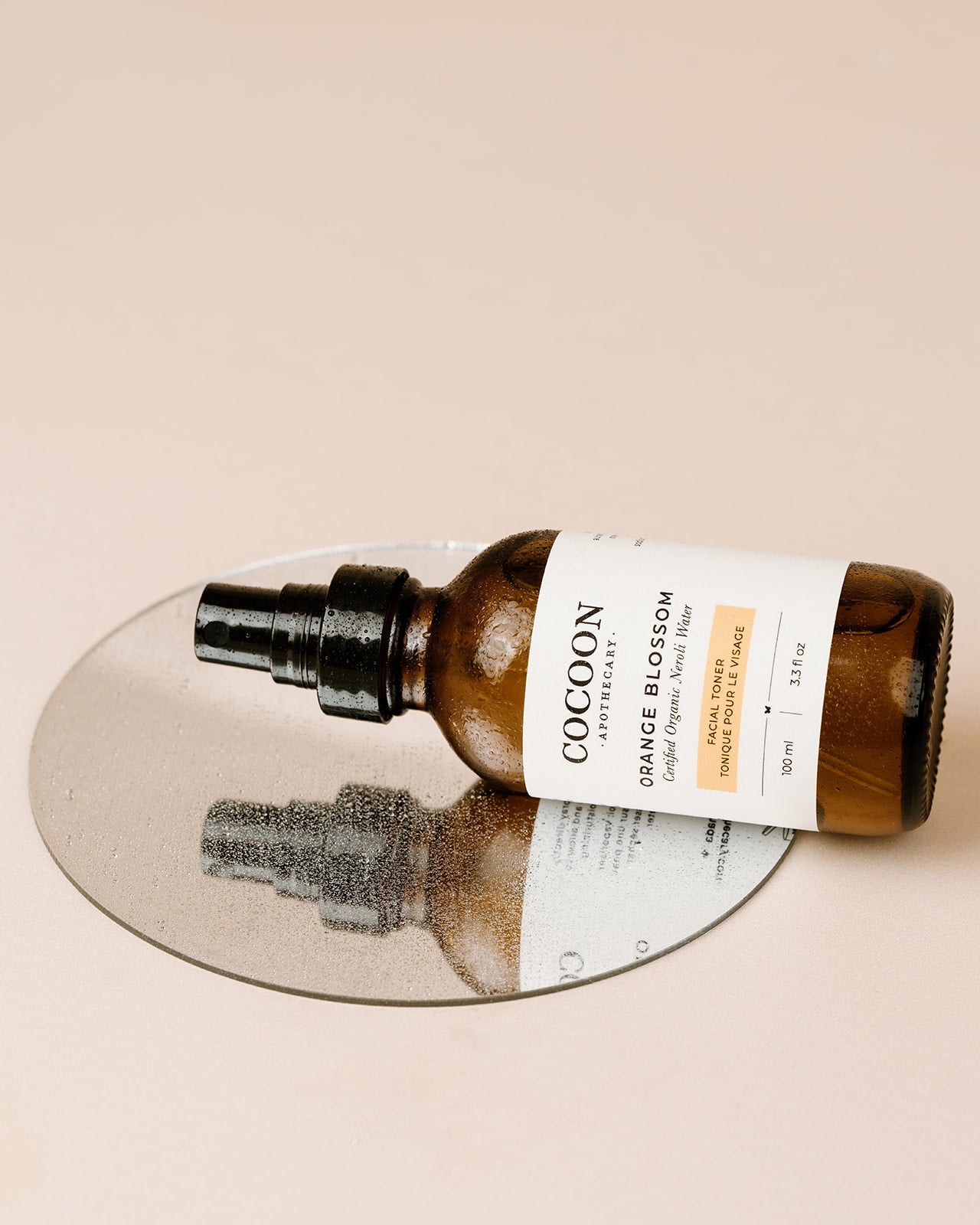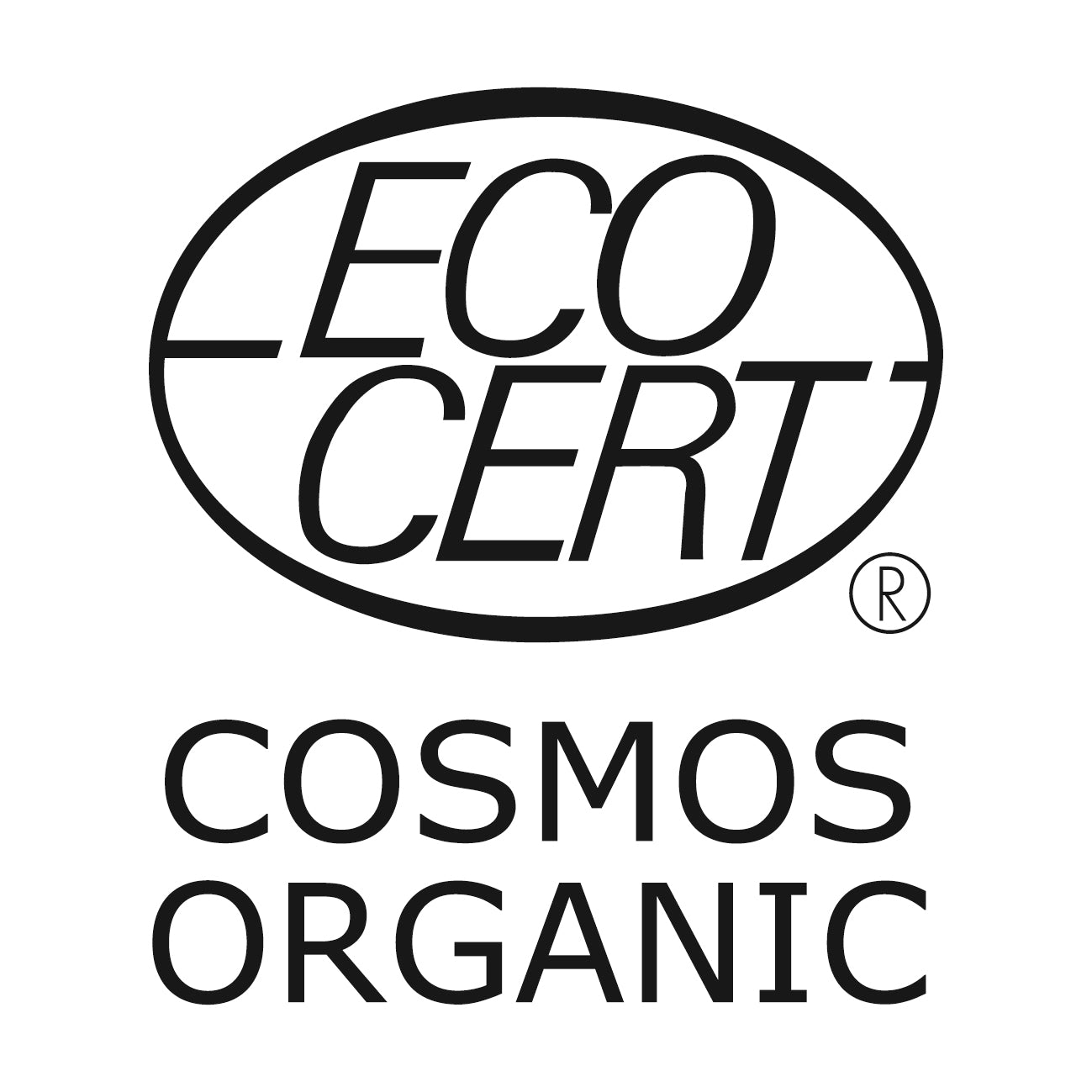 Neroli Hydrosol
Neroli hydrosol is a natural botanical water that is derived from the steam distillation of the fragrant flowers of the bitter orange tree. It has a sweet, floral scent that is uplifting and refreshing, making it a popular ingredient in aromatherapy and skin care products. Neroli hydrosol is known for its numerous skin care benefits, including:
Soothes and calms the skin: Neroli hydrosol has anti-inflammatory and antiseptic properties that help soothe and calm irritated skin. It is particularly beneficial for those with sensitive or reactive skin, as it can help reduce redness and inflammation.

Hydrates and moisturizes the skin: Neroli hydrosol is a natural humectant, which means it helps the skin retain moisture. It is also rich in antioxidants that protect the skin from environmental stressors and free radicals that can cause premature aging.

Balances oil production: Neroli hydrosol helps balance the skin's natural oil production, making it beneficial for those with oily or combination skin. It can also help prevent breakouts and blemishes by reducing excess oil on the skin.

Promotes cell regeneration: Neroli hydrosol contains citral, which promotes cell regeneration and can help improve the appearance of fine lines, wrinkles, and scars.

Improves skin tone and texture: Neroli hydrosol can help improve skin tone and texture by promoting circulation and stimulating the production of collagen and elastin. It can also help reduce the appearance of pores and improve overall skin clarity.
BOTANICAL NAME: Citrus (Latin name for citron) aurantium (orange) var. amara
EXTRACTION: Steam distillation 
DESCRIPTION: Neroli Hydrosol is a water solution infused with the essence of the neroli blossom.  Often during the extraction process of essential oils some of the aromatic and healing principles of the plants are lost.  Certain components of essential oils are hydrophilic, meaning they dissolve in water, so the process of producing a hydrosol allows one to capture the full essence of the plant delivering its complete arsenal of capabilities.  Neroli hydrosol is derived from the blossom of the bitter orange (Citrus aurantium var. amara) tree, much like the essential oil.  This tree is native to Eastern Africa, India and the Himalayas and thrives in moderate climates.  This hydrosol has a long history of use.  Dating back to the fourteenth century, it was used as a scent for household linen.  In the sixteenth and seventeenth century, orange blossom trees were cultivated in France to be used in the perfume industry as well as in cuisine.  Neroli hydrosol is an astringent making it ideal for those with oily skin.  It contains natural alpha hydroxyl acid which works to gently cleanse skin without stripping its natural moisture.
KEY COMPONENTS: Linalyl acetate, limonene, linalool, geraniol 
FOUND IN: Orange Blossom Facial Toner, Skin Care Starter Kit for Oily Skin
Customer Reviews
Write a Review
Ask a Question
03/16/2023
Diana V.

Canada
Toner
I Am not a fan of the smell
02/20/2023
Deanna K.

Canada
My morning routine
The orange blossom facial toner has been a part of my routine for a few months now. It eliminates the dry and tight feeling after washing and just smells fabulous. A nice boost to my morning.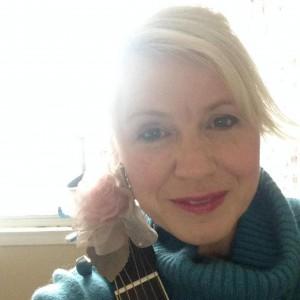 RP
09/05/2022
Rosslyn P.

Canada
A Spritz of Freshness!
I have just started using Cocoon's "Orange Blossom Facial Toner" and I love it! In fact, I love all of my Cocoon products. I cleanse, then spritz, using the toner, then moisturize with Orange Blossom facial creme. This has been my summer regimen because these products are so light and fresh, and non greasy. I highly recommend this wonderful, natural line of skin care products :)
09/06/2022
Cocoon Apothecary
We are so thrilled you are loving your products. Keep enjoying them and thank you for the great review!
08/23/2022
Samantha S.

Canada
Amazing!
Best toner! It smells so good, feels so refreshing and amazing on your face. It really works, would highly recommend!
07/04/2022
Kathy B.

Canada
Refreshing!
Love it, very refreshing and love that you can just spray it on the face. No cotton pads needed! I have very sensitive skin and have not had any reactions to the toner or any products from cocoon apothecary!
06/11/2022
Carol H.

Canada
Perfect Skin Toner
This toner is light and airy, and has a pleasant subtle scent. I really love the Orange Blossom line. I am 65 and Orange Blossom is my go-to skin care product line. Price and customer service is great too!
06/04/2022
Kate

Canada
New favourite toner
Love the smell, and fresh clean feeling after spritzing
05/30/2022
Holly G.

Canada
Refreshing and renewing
Love this facial toner and use it morning and night before I put on my cream or night time routine.
05/22/2022
Ashley L.

Canada
Refreshing!
I really enjoy using this toner the smell takes a little bit of getting used to! However it feels great once it's on the skin and soaks in well. It doesn't give you a tight /dry feeling after.
01/19/2022
Lee S.

Canada
Refreshing
I enjoy this toner, it's light and refreshing
01/07/2022
Amber T.

Canada
I love this toner
I love using this toner and all of the products from Cocoon Apothecary. They always smell so amazing and don't feel heavy on my face!
12/29/2021
Rosanna C.

Canada
Amazing product
It is a refresh for one's face with a beautiful natural citrus smell.
12/07/2021
Tessa R.

Canada
11/01/2021
Soraya S.

Canada
One of my favourites
This and the ancient mud facial mask. This is my second time buying these products. I come back, again.
10/06/2021
Nicole T.

Canada
J'aime ce produit.
Je l'aime beaucoup odeur merveilleuse.
10/04/2021
Molly S.

Canada
2 of 3
Essential part of the morning trio
05/05/2021
Amanda M.

Canada
Great Toner
Spritz this on for a nice refreshing wake up. It smells lovely!
04/29/2021
Jessica B.

Canada
Orange Blossom Toner 10/10
I love this product, I use it twice a day after washing and before doing a rosehip oil facial massage, followed by Nordic syrum. It's a dreamy combo for smooth, even, (mostly) clear, hydrated skin. Trust the process.
01/13/2021
Lisa J.

Canada
Orange Blossom facial toner.
I use this in conjunction with the Orange Gel cleanser and then follow up with the Orange Blossom facial cream. My skin has never been so smooth and fresh.
12/07/2020
Maddison M.

Canada
Great product!
First product I have used from CA and absolutely love it and the 'Orange' line! Smells wonderful and is very gentle on sensitive skin. Will be repurchasing for sure!